Jane Asher was born on April 5, 1946 in London, England, the first daughter of Richard and Margaret Augusta Asher. Asher's brother, Peter,and her sister, Claire, both have that trademark red hair just like her.
The Asher children were all involved in the performing arts. They all got their start when someone told Asher's mother that her children were beautiful and should be in films. She liked the idea and thought it would be good for their self-esteem and a fun hobby.
Jane Asher began acting that same year (1951), appearing in the film Mandy, the story of a deaf girl. By the age of 12, she made her stage debut in Alice In Wonderland, playing the lead role. She also appeared in BBC programs (Peter, two years older than Jane, appeared in The Planter's Wife and Isn't Life Wonderful?).
Before long, however, it was music that was Peter's main passion, and he became the other half of the duo Peter & Gordon. (Now, Peter Asher is the vice-president of Sony USA). The youngest Asher, Claire, was also an actress for some time. She had a role on the radio soap Mrs. Dale's Diary, and a part in the series The Mistress with her sister. (Claire has since become a school teacher).
Jane Asher was hired to be on the BBC programme, Juke Box Jury. The show had regular people and musicians judge the latest hits on the radio. The seventeen-year-old was asked to do an interview on the show with The Beatles, pose for photographs and scream. After the show, she met up with the band in the green room. After talking to the well-educated, sophisticated Asher, they invited her back to their hotel, to which she accepted. After being embarrassed greatly by John Lennon; Asher , Paul McCartney, George Harrison, Chris Hutchins, and Shane Fenton(the last two of which were friends of the Beatles) went to Hutchins' flat on Kings Road. There was plenty of Irish whiskey to go around, and the more the men all drank, the more they flirted with Asher. Needless to say, she was very much overwhelmed.
At first, it seemed that George Harrison took the most interest in Jane Asher, but it soon became apparent that it was Paul McCartney who fancied her the most. After lots of suggestive discussion amongst the entourage, they all left, leaving Asher and McCartney in the bedroom of Chris Hutchins' flat.When the others returned hours later, they were greeted with an unexpected scene: McCartney and Asher were talking about their favorite foods.
Everyone except Asher decided to go out that night in London's West End, and they decided they'd take her back to Wimpole Street. Before she left their car, McCartney asked for her phone number.
Paul McCartney was a frequent visitor to the Asher home. On one day, Asher's mother, Margaret, thought it would be nice to have McCartney living at their home whenever he was in London.. Once, the bassist had missed his train to Liverpool and Asher's mother let him stay for the night. He took up their offer became a fixture on the top floor of the Wimpole Street home.
At this time, Beatlemania was at its height, and McCartney was the only lucky Beatle at this time in matters of privacy. The home addresses of Lennon, Harrison and Starr were well known by Beatle fans. It was still a mystery, however, where McCartney lived. When word of Asher and McCartney's relationship reached the press, however, that luxury was gone. The Asher phone would constantly line be ringing. Unfortunately for the family, nothing could be done because Dr. Asher needed the line for emergency calls from his patients.
Problems for the couple, however, were inevitable. As McCartney's popularity grew, he demanded that Asher give up her career, which she refused to do. Despite these troubles,however, Asher and McCartney soon moved out of the Wimpole street home in 1966.
Later that year, on December 25, McCartney proposed to Asher and gave her a diamond and emerald ring. When everyone heard of the engagement, many were pleased. McCartney's girl fans, for the most part, did not resent Asher's engagement to him. If it wasn't themselves being McCartney's fiancee, they felt Asher was a good match for McCartney. When the "Apple Scruffs", (Beatles fans who would stay near McCartney's Cavendish home and 3 Saville Row), would buzz the intercom or ring the doorbell,Asher would always politely and patiently answer. Asher was a role model to many; all of her fans washed their hair with Breck shampoo, just as she advertised on the television. They even ironed their hair straight to look just like her. Fans approved of Asher's down-to-earth personality, and that she was possibly the only person who could curb McCartney's ego. Despite Asher's ability to bring out the best in McCartney, even she couldn't control what happened when she was gone.
McCartney led a double-life throughout his whole relationship with Asher, very typical of pop stars at the time (and of today as well). One was with her, which he lived a very domestic life, and a happy one. One was without Asher, at various clubs around London, being the womanizer he always was. And when those two lives met, problems ensued.
Asher returned to the Cavendish residence unexpectedly one night in the late spring of 1968, to find Paul with another woman. Asher left the home soon after. Despite this occurrence, Asher and McCartney were seen together in public appearances. However, the relationship was publicly known as over when McCartney showed up alone at the Yellow Submarine premiere.
On July 20,1968, Asher officially announced what the public already suspected, that her engagement to Paul McCartney was off.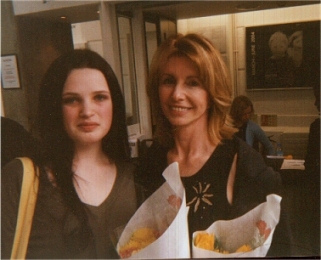 Meeting Jane Asher, May 2004