Guitars are marvellous, and without them, The Beatles wouldn't have got very far. I like guitars, but don't really know the first thing about them. I play (if you can call it that), but that's as far as it goes, I don't know any of the technical stuff.
So below is a collection of my favourite Beatle guitars.
1965 Epiphone E230TD Casino
As played by John Lennon. Made it's debut at the NME Poll Winners Concert in 1966. Notably appeared in the 'Rain' promo (Left). John had the guitar sanded in 1968 (right) to improve the tone.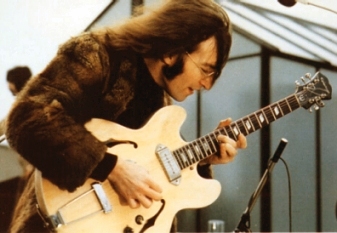 1964 Rickenbacker 325
John's Beatlemania-era guitar. Used in bloody LOADS of stuff, notably the earlier live performances. The first album it appeared on was A Hard Day's Night. [My personal favourite too )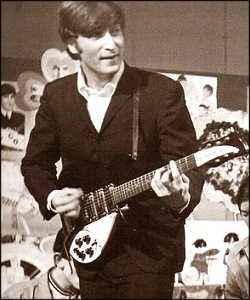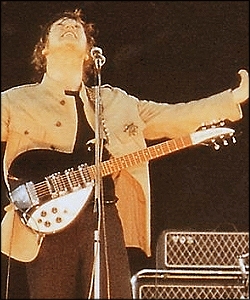 1963 Gretsch 6122 Country Gentleman
George's guitar, most used on the earlier performances and albums. The guitars highlight was the solo in Till There Was You (in my opinion)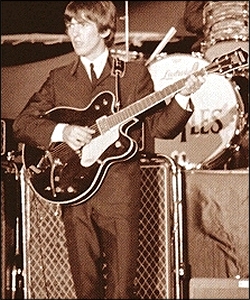 1961 Fender Stratocaster
One was also bought for John, both in a rare pale blue colour (like this one). First used on Nowhere Man. In 1967, to commemorate the All You Need Is Love broadcast, Harrison decorated the Strat, nicknaming it "Rocky". The guitar appeared in the I Am The Walrus sequence of the film "Magical Mystery Tour".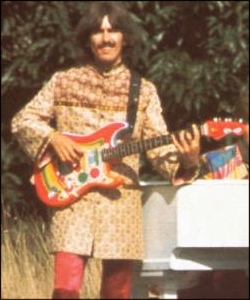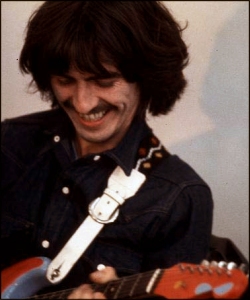 1963 Hofner 500/1
First used by Paul on the READY, STEADY, GO performance. Largely used on performances and albums up to 1965, then replaced by the Rickenbacker bass. Re-appeared for the Let It Be rooftop gig.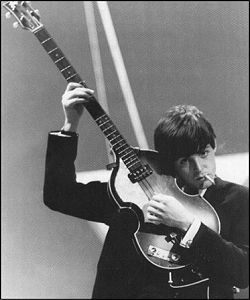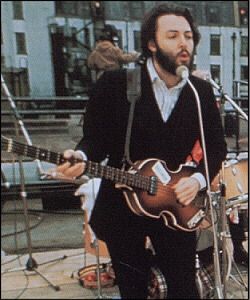 1964 Rickenbacker 4001S
Introduced at the psychedelic period of The Beatles, used on Revolver, Magical Mystery Tour and Sgt. Pepper. Appears in the Hello, Goodbye promo and the I Am The Walrus sequence. Paul later sanded it down (right) in time to use it again for Abbey Road.